Body transformation is now a rite of passage for many actors, with certain stars changing their body type in the same way that actors used to change hair-style for a role. It can be a career-making skill if you have it: look at Chris Pratt, who went from adorable comedy sidekick to A-list action hero after a few months in the gym. Here are a few of the most extreme examples.
1. DAN STEVENS
Aristocrats didn't really work out at the turn of the 20th century, unless you count a little light shooting and the odd waltz, so Stevens' slim but hardly chiseled bod was period-appropriate for Downton. But come his modern roles in films like The Guest and TV's upcoming X-Men spinoff Legion, he's hit the gym and reaped the benefits.
2. CHRIS PRATT
The Parks & Rec star was at his heaviest weight ever when he was given the chance to star in Marvel's Guardians Of The Galaxy. His immediate cry? "Honey, I need to lose 75 pounds! Stop baking!" Once Anna Faris, his wife, put down the mixing bowl and he gave up, as he puts it, "fun" and hit the gym, he emerged looking, well, like an action hero capable of outrunning alien hitmen and dinosaurs.
3. MATTHEW LEWIS
Maybe this isn't entirely fair, because the Harry Potter star was very young and just going through an awkward stage in the first photo here. As he grew, he started to lose weight—to the extent that he had to wear padding in the last few films. But even compared to his cast mates, like the also-ripped Daniel Radcliffe, Lewis' transformation is impressive.
4. DWAYNE 'THE ROCK' JOHNSON
The Rock has always been in pretty decent shape, playing American football in college before taking up a wrestling career. But the modern Rock is an entirely different and much more massive beast. We're still a little surprised that his 2015 summer hit San Andreas didn't just feature him punching the planet into submission.
5. GERARD BUTLER
The cast of 300 were the first to experience the brutal training regime imposed by Gym Jones founder Mark Twight, one that saw at least one person throw up from exertion every day. Butler then did extra weight training on top of that to ensure that his King Leonidas would be bigger and more impressive than his warriors.
6. RYAN GOSLING
You'd think that a film named after a wrestling move like Half-Nelson would require its star to get into training—but not so. It was in fact Crazy, Stupid, Love that saw Ryan Gosling hit the gym hard. "It's like you're photoshopped!" exclaimed Emma Stone's Hannah when he took his shirt off. Depressingly, he wasn't.
7. CHRIS HEMSWORTH
Every time Kenneth Branagh turned around on the set of Thor, he'd find his star frantically eating another piece of protein (lean protein comes up a lot for these guys). "Naah man, gotta eat," was basically Hemsworth's mantra. He's nearly 30lbs heavier for his appearances as Thor than his normal (not exactly tiny) body shape, and that's pretty much all muscle.
8. HUGH JACKMAN
Every time Jackman plays Wolverine, chickens around the world quake in their nests. Since X-Men Origins: Wolverine, in particular, Jackman has worked for an "animalistic" look with clearly defined muscles and even popping veins. That means a lot of lean protein at 4am, so he can start digesting before 6am and his first workout of the day. Talk to a star in training, and chances are they've called either Jackman or The Rock for advice, because these are the experts.
9. WILL SMITH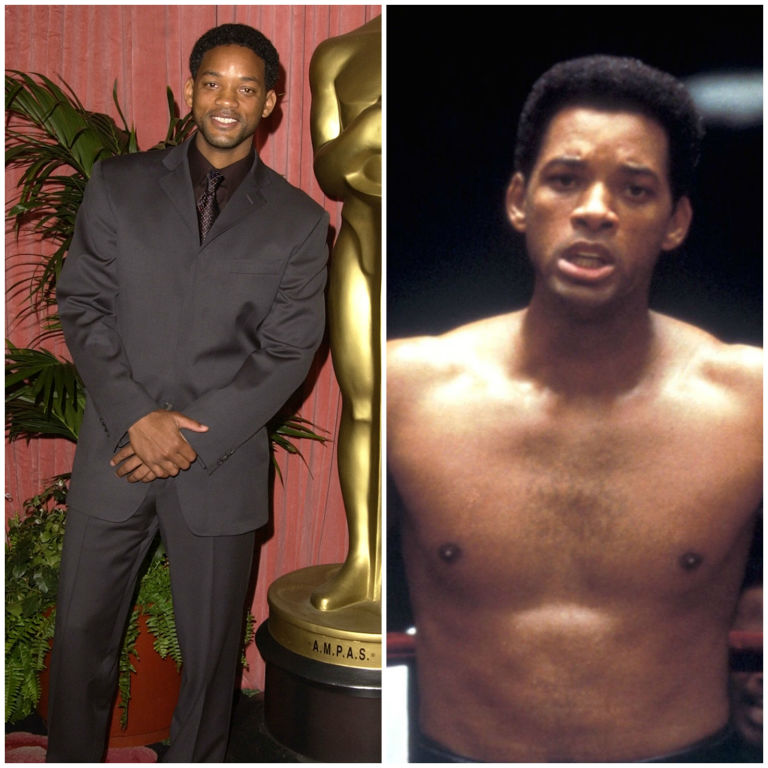 It took two years for Will Smith to prepare for his role in Ali, during which time he learned to box and put on about 35lbs. He was already in good shape—see Independence Day—but this took him to a whole other level.
10. HENRY CAVILL
Cavill was in superb shape before Man Of Steel—look at him in Immortals—but he wanted to be bigger to play Superman. So he was another to benefit / suffer from the Gym Jones approach, now standard for Zach Snyder films. Cavill also went on a strict, protein-heavy diet and followed the Spartan workout, which includes sessions spent flipping JCB tyres the length of a gym and doing hanging press-ups.
11. CHRISTIAN BALE
This is not so much podgy-to-ripped as terrifyingly-skinny-to-ripped. The famously dedicated Bale went straight from the Machinist—which saw him weigh only 120lbs—to Batman Begins. He trained hard and ate hard to rebuild his body, putting 100lbs back on, only to find he was bigger than he should be, so he had to drop 20lbs again. He then pretty much repeated the loss-gain cycle to make Rescue Dawn and The Dark Knight, and again for The Fighter and The Dark Knight Rises.
12. JK SIMMONS
Possibly the most surprising on the list was JK Simmons's transformation for Justice League. Actors bulking up for superhero roles is nothing new, but his role as Commission Gordon isn't traditionally one that calls for arms like bags of grapefruit. The 61-year-old Whiplash and Spider-Man looks ready to lift his younger castmates above his head and tear them to little shreds. Ben Affleck and co had better play nice.

From: Digital Spy